It has been brought to my attention that for years a debate has rolled around Harry Potter fansites, and among commentators, about the identity of the wizard I painted for the back cover of Harry Potter and the Philosopher's Stone. The mystery has gained greater resonance because he was quickly replaced with a more clearly recognisable portrait of Albus Dumbledore. So who is this mysterious first wizard? And what sinister forces were brought to bear to bring about the change?
 According to many, the first picture shows an unaccountably young Dumbledore, while others think he must be Professor Quirrel or Nicholas Flamel, and perhaps that's even the Philosopher's Stone itself we see bulging out his pocket! Some have said that the "illustrator obviously didn't read the text before illustrating it". Or perhaps the text was too precious to be released before publication! Because this is Harry Potter, it's even been suggested, breathlessly, that maybe I was privy to secret knowledge of the characters and books to come.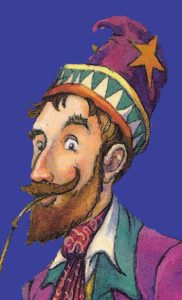 Well, though I'm afraid it's rather dull, here's the real explanation: when I was commissioned by Barry Cunningham to produce the cover art for a debut middle grade novel by an unknown author called J. K. Rowling — and yes, I did read it — I was asked to provide "a wizard to decorate the back cover". So I did. The books are full of magical characters and sorcerers, so it wasn't difficult to conjure up one of my own. It never even crossed my mind to depict Dumbledore. Well done, Chlidonias, for guessing correctly.
And the change? Well, the publishers found themselves repeatedly called on to explain why the wizard on the back didn't correspond to the description of Dumbledore in the book. It was clear what readers wanted and expected, so Bloomsbury contacted me for a portrait of the famous head of Hogwarts, and the original wizard disappeared in a puff of smoke.
 So that's the answer. The first wizard wasn't anyone in particular. Except…
 …except he was, actually. He was based on none other than my own wonderful, magical father. Yes, my somewhat eccentric, embroidered skullcap-wearing dad is the wizard on the back of Harry Potter. Here he is boiling up a potion: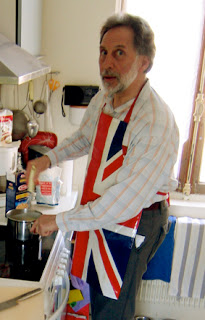 I'll leave you to guess which wizard I prefer.
(See also: Me and Harry Potter)